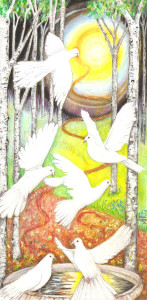 As with my friend Lynn, I set up and sold immediately: it was a print of my Doves at Dawn image that I had plans for in my last blog.  I subsequently sold many cards depicting this image and more framed prints. No originals like Lynn when she did her stint here, but even more successful than last year.  So I'm  pleased and encouraged.
And since my fortnight in April I have been back to Burton Agnes Gardens with my artist friends to draw and to sit and observe.  I've now got the walled garden photographed and drawn using different papers, pencils and pens.  I'm working up to doing a piece for Art in the Garden that East Riding Artists use via the National Gardens Schemes.
Meanwhile walking in Rothbury, Northumbria with our walking friends awaits and I'm sure I shall find more inspiration in the hills, trees and woods waiting to be explored!