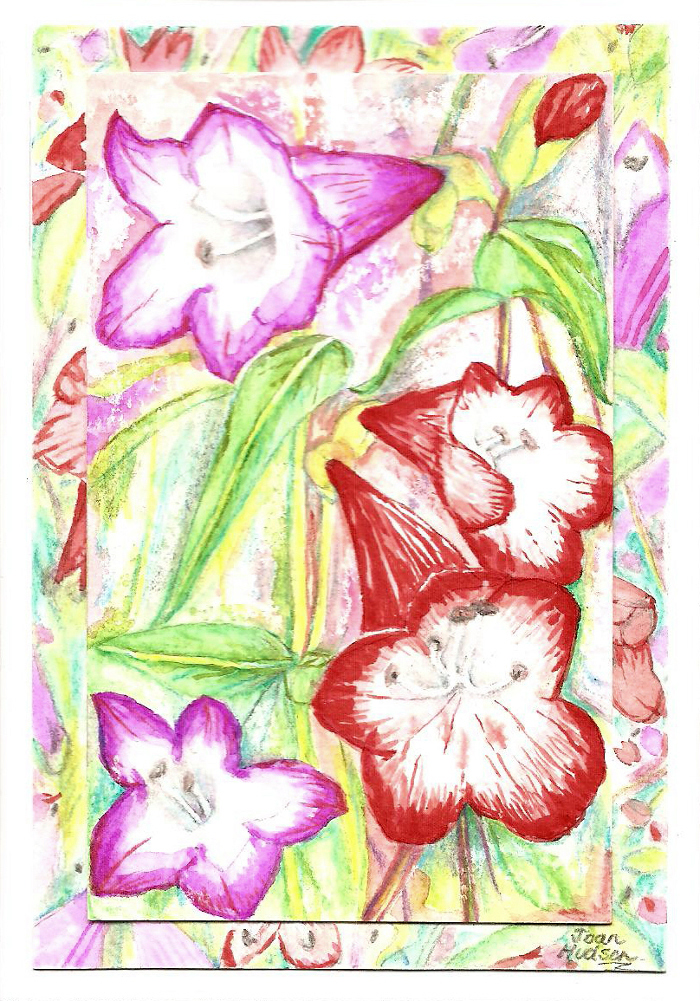 Driff Art Club inspired me this month with Oliver Lovely's Graphic Design work using vegetable dyes and at the other end of this precise style is my friend Rachel's work: messy, colourful and fabulously inventive textile work but also very meticulous in its own way.  The connection with both artists is their strong use of sketchbook ideas and process.  That's the main thing for me at the moment – an ideas sketchbook in which I can note down techniques, compositions and written ideas for future work.  It's ironic that this basic artists' practice and one strongly advocated  in my art teaching days, was fast slipping from my grasp as I have been more and more caught up in fulfilling  commercial needs in selling my cards, decorative wall tiles and framed pictures.  It's how it goes: you put your all into one trajectory and then, if you're lucky and associate with other artists, you say hey wait a minute I really ought to try it a different way for a change, see where it takes me.  I know I can sell my work so let's have some fun and try experimenting.
Paper and different surfaces is the thing I'm experimenting with in my ideas sketchbook.  I've bought Bockingford watercolour paper to try out my layering on tone with inks and watercolour crayons.  The caran dache crayons are of such good quality that the lightest of touches on 'toothed' paper will suffice and a little warm water lightly brushed over the top will look and feel like the finest pan tin of  watercolours!  Another thing I've done is create some bird cards with word processed and collaged info in the background with the image cut out and stuck on top.  The next thing I'm going to do is print the bird image directly onto the type so that the lettering comes through the image.   I'll do it with my best sellers – the ostrich ( bought for the dry humour of its burying its head in the sand!) and the robin ( bought for Christmas?!)
Next month We're lucky enough to go to the Atlas mountains ( got my sketchbook just for this!) and then we're going to have a family Christmas, the dinner made by our son in his van somewhere near Athens.  It'll be lentil and vegetable stew and it'll be wonderful.  Us 4 can sit and eat and admire all the doodles and other drawings, textiles and artwork that other travellers have contributed to adorn the inside of Mike's van.
Next post January 2015 folks!